When Cinelli set out to create the best touring bike, they did their research. Using the legendary 7,500 mile Tour d'Afrique as their reference point, Cinelli created a machine to not just survive harsh conditions, but to conquer them. A race across the African continent from north to south demands a bike that is both rugged and reliable, and that concept is wholly designed into the Hobo. The Hobo comes to you ready for whatever you have in mind, whether it's a Trans-Am or trip to the grocery store.
This stop built into the headset prevents the bars from swinging around and denting the top-tube, because crazy stuff happens out on the road.
The cables are fully housed and run across the top-tube to keep dust and mud from entering. The frame's Columbus Cromor tubing is corrosion treated both inside and out.
The Hobo's chain-stay comes equipped with spare spoke holders.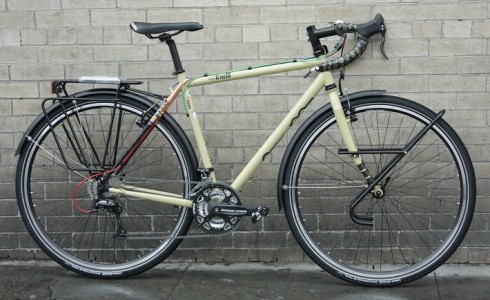 The Hobo comes ready to tour, just add pannier bags and up to three bottle cages. Fenders and finest quality German made Tubus Racks front and rear come standard.
Cinelli understands that the Hobo is more than just a bike, it is the conveyance of potential life changing adventure. As such, the Hobo comes with it's own Moleskine notebook to keep record of your travels!